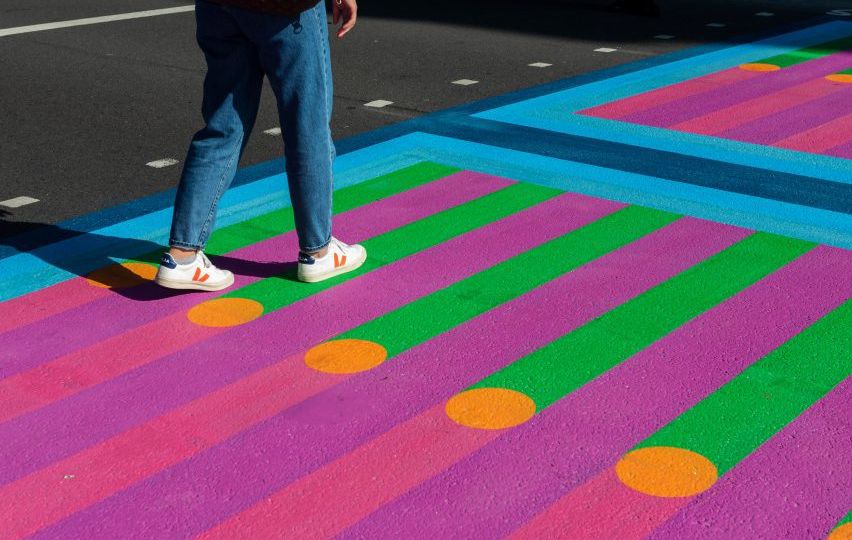 Yinka Ilori creates 18 colourful crossings over London's streets
London-based designer Yinka Ilori is transforming 18 pedestrian crossings for this year's London Design Festival, using vibrant bands of colour.
Ilori has replaced the usual black and white stripes on 11 colourful crossings on Tottenham Court Road in central London with bold shades of blue, orange, pink, purple and green.
The designer has also teamed up with students from University of the Arts London to design a further seven crossings for the City of London, with one set to be painted by volunteers during the festival.
The project, called Bring London Together, is intended to bring joy to the thousands of people walking through London's streets every day.
It follows a series of other temporary road artworks that have created in the city, by designers including Camille Walala and Eley Kishimoto.
"For me, colour and pattern have always been a way of celebrating places, communities and experiences," the designer told Dezeen.
"Instead of being mundane, these crossings can become a focal point where people can experience art. Hopefully, it will make them smile and bring a sense of joy and positivity to their day."
Bring London Together is one of the landmark projects for London Design Festival 2021. It also forms part of Let's Do London, a tourism campaign spearheaded by London mayor Sadiq Khan, with the aim of supporting the city's creative, retail and hospitality sectors following the pandemic.
The same design features on all the crossings along Tottenham Court Road.
The pattern consists of lines dissected by circles, intended to represent the strength of connectedness we feel from the people around us. Ilori said he was thinking about relationships he formed with friends and neighbours over the past 18 months.
These kinds of motifs are a common theme in Ilori's work, with past examples including his Colour Palace at the London Festival of Architecture in 2019, and his pandemic artwork, Better Days Are Coming I Promise.
As the city tries to move forward from the challenges of Covid-19, Ilori hopes the design will help Londoners feel happy to be out and about again.
"It's about trying to bring our community back out onto the streets to celebrate," he said.
"We are still in a pandemic, but we're trying to get out of it slowly. I'm trying to make Londoners feel they can actually live their lives again."
For the seven crossings in the City of London, the city's central business district, Ilori worked with student designers Annabel Maguire, Sophie Cornish-Keefe and Eliot Everton on a series of different designs.
One of these seven will be located on the Queen Street pedestrian area outside the headquarters of Bloomberg, the company that funded the project. This crossing will be painted by volunteers over two days during London Design Festival, on 20 and 21 September.
London Design Festival 2021 takes place from 18 to 26 September. See Dezeen Events Guide for an up-to-date list of architecture and design events taking place around the world.